Architect Jeff Cooper, The Directors Choice
Jeff Cooper Architect, Calabasas, well known Sound Engineer and Architect to the stars, reminisces about how fortunate he has been in his 40-year career, to have been selected to design Theaters and studios for the world's greatest film directors. In this multipart series, Jeff will recount his behind-the-scenes stories about how he met and came to build state-of-the-art Theaters and Studios for Hollywood's most elite directors, including Francis Ford Coppola, George Lucas, Martin Scorsese, Steven Spielberg, Steven Sommers, and Michael Bay.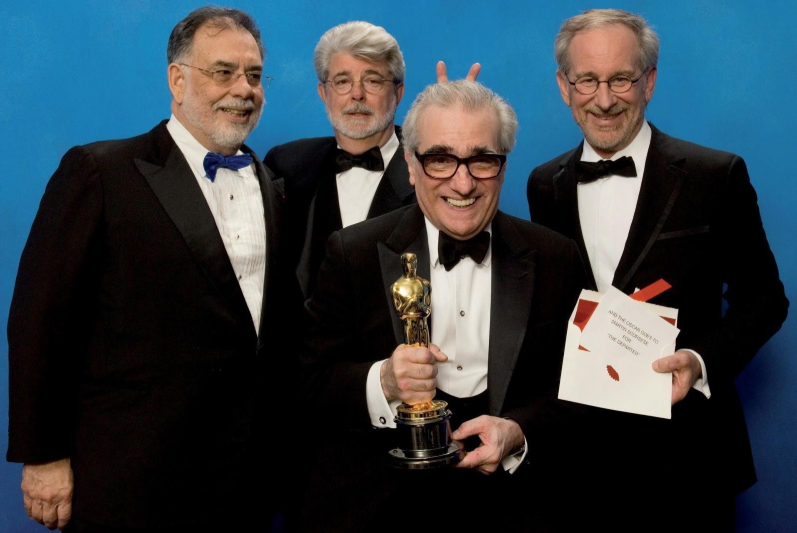 Photo 1- Film Directors (pictured left to right) Francis Ford Coppola, George Lucas, Martin Scorsese, and Steven Spielberg (photo courtesy AMPAS).
Francis Ford Coppola Selects Jeff Cooper to Design his New Studio – How it all Began | Architect Jeff Cooper
In 1978, shortly after publishing his book "Building A Recording Studio" about acoustics, architect Jeff Cooper, 26-years-old at the time, received a call at his LA apartment in the Hollywood Hills. He was asked to fly up to San Francisco to investigate an old downtown warehouse located on Pacific Ave, for possible conversion to a movie studio. At that time, all the US film studios were operated primarily out of Los Angeles and New York. San Francisco was an upstart location, but with its Northern California "anti-LA" mentality, and it's gorgeous geographical setting, it was fast becoming the City of choice for a new breed of young filmmakers, including Saul Zaentz, Milos Forman (One Flew Over the Cuckoo's Nest, Top Gun) and George Lucas (Star Wars).
The call came from an audio engineer named David, that architect Jeff Cooper had casually met a few months before, at a music studio he was working on, called Funky Features Recording in the Haight Ashbury district of San Francisco. Jeff flew up the next day from Burbank on PSA ("the pink-themed" California airline of the '60s & '70s) and met David, the engineer, at the site on Pacific Ave. Architect Jeffrey Cooper did a quick evaluation of the abandoned warehouse space, looking closely at the overall geometry, the ceiling height available to the exposed trusses, and the various measures that would be needed for proper vibration isolation and soundproofing. Jeff had no idea who the actual client was. It seemed to be a secret.
The Secret Client | Architect Jeffrey Cooper
After about an hour, the audio engineer wrote down an address on a torn slip of paper and asked architect Jeff Cooper, of Calabasas, to walk over on his own to another building around the corner, to give his report verbally to the client/ owner. Jeff walked through the neighborhood down Columbus Ave.and found the owner's building, located at 916 Kearny St. As a young Architect with a keen eye and an appreciation for beautiful old buildings, he was immediately taken by the charming triangular, 7 story building in front of him.
It was built in the Flatiron Era, and its detailed exterior and its European copper & bronze elliptical dome summit were well preserved. Known as "The Sentinel Building" it was a historical San Francisco landmark, designed by the Architect, M.J. Lyon in 1923, to gracefully fit into the tip of a triangular downtown block intersection. Architect Jeffrey Cooper had seen aerial photos of this gem of a building many times, in his California architectural history studies at MIT.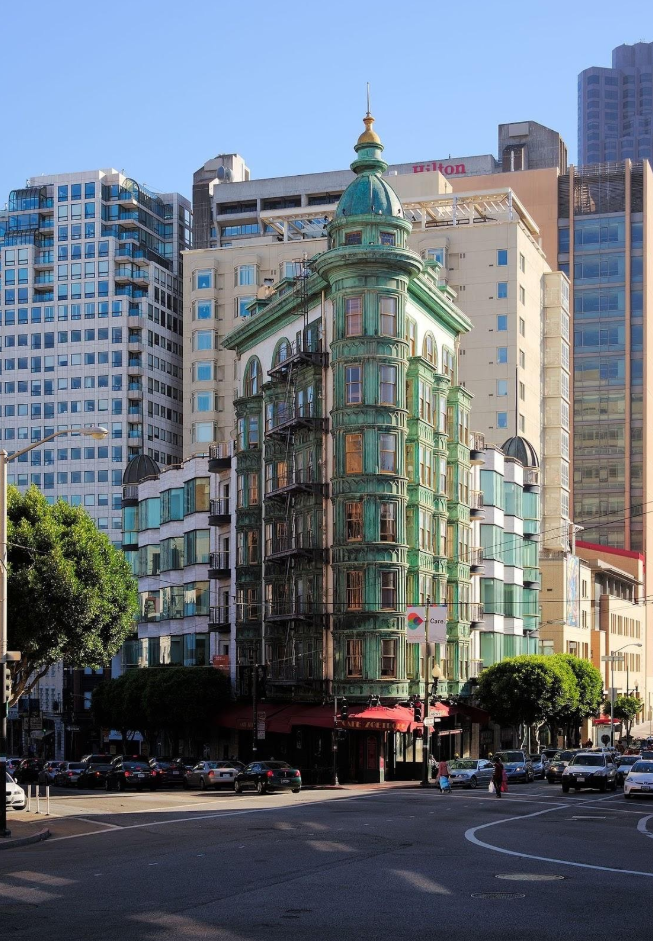 Photo 2 – The Sentinel Building, located at the intersection of Kearny St. & Columbus Ave. in San Francisco, home to Francis Ford Coppola's American Zoetrope Film Studios since 1971.
Architect Jeff Cooper entered the tiny mahogany lined elevator, and pushed the button for the top floor, as instructed. When the elevator door opened, he was surprised to find himself inside a huge lush wood-paneled office, with the open dome above. There was an antique desk sitting at the far end. Perched behind the desk was a young, slightly husky, bearded man with a warm smile. Jeff immediately recognized film Director Francis Ford Coppola.
American Zoetrope – A New Breed of Film Studio | Architect Jeff Cooper of Calabasas
Coppola had recently finished directing the first Godfather movies, Parts I & Part II, both to critical acclaim and to numerous Oscars. Critics said, "The Godfather is epic in scope while maintaining a patience and intimacy characteristic of European art cinema" (Common Sense Media). " The Godfather" is rightly considered one of the greatest films ever made. Coppola had now turned his attention to creating a new film studio, to be located outside of Hollywood, in the middle of downtown San Francisco. The venture was to be called American Zoetrope. The name "Zoetrope" was a reference to the first moving picture machine invented by Thomas A. Edison in 1891, the Kinetoscope. In this ingenious device, a strip of film is passed rapidly between a lens and an electric light bulb (also invented by Edison) while the viewer peers the passing images through a peephole, giving the impression of a stationary succession of moving images. It was the first miniature movie theater! Coppola had obviously studied the history of his chosen craft, during his years at UCLA Film School. Jeff was immediately intrigued.
Francis stood up and welcomed Jeff warmly, like an old friend. There were no secretaries or assistants in the large office. It was only Jeff and Francis. Architect Jeff Cooper, of Calabasas, was immediately charmed by his famous host. Francis offered him a bottle of sparkling water and went over to a small refrigerator to get it for Jeff. Francis also brought him a slice of lime. He poured the glass for Jeff, like an experienced restaurateur, and told Jeff to make himself comfortable. After some pleasant conversation, he asked Jeff what he thought about the warehouse building he had just inspected around the corner. Architect Jeff Cooper gave him his frank assessment. Yes, it could be soundproofed & converted to a working studio. The proportions were good. However, it was in rough shape and needed a lot of work…and time.
Coppola's Vision – A New Kind of Mixing Studio | Architect Jeffrey Cooper of Calabasas
Francis described how he wanted architect Jeff Cooper of Calabasas to design a revolutionary kind of film mixing studio, in order to mix the soundtrack for the new film he was working on, Apocalypse Now. The film was to star Marlon Brando and Robert Duvall, both of whom Francis had worked with in his film masterpiece, The Godfather. For this new project, Sound was also to be one of the stars. "The film sounds need to hit the viewer from every angle," Coppola said. "Most importantly, the low frequencies and bass needed to shake the hell out of every member of the audience". They must "feel the film in their gut". Jeff understood that Francis wanted this movie to be an out-of-body experience.
Francis knew that architect Jeff Cooper, of Calabasas, "wrote the book" on recording studio design, and that he was also an avid musician who loved 60's rock. Francis wanted Jeff to design a spectacular new kind of acoustic experience, one akin to the intimate feeling one gets inside a recording studio, where the wide spectrum of sounds fully envelope the listener and take over his consciousness. "Apocalypse Now" was to be Coppola's epic film about the Vietnam War. He envisioned a larger than life soundtrack, one that would take the viewer on an immediate and horrifying ride from their seat in the theater to the rivers and jungles of Vietnam. This film needed a new way for the audience to experience the jarring sounds of war. "The audience needs to feel the blades of the helicopters whirring and to experience the air moving," said Coppola excitedly. "They must first feel the helicopters approaching from behind, off-screen… and then appear suddenly… in all their dramatic glory." Francis wanted to "bring the war home".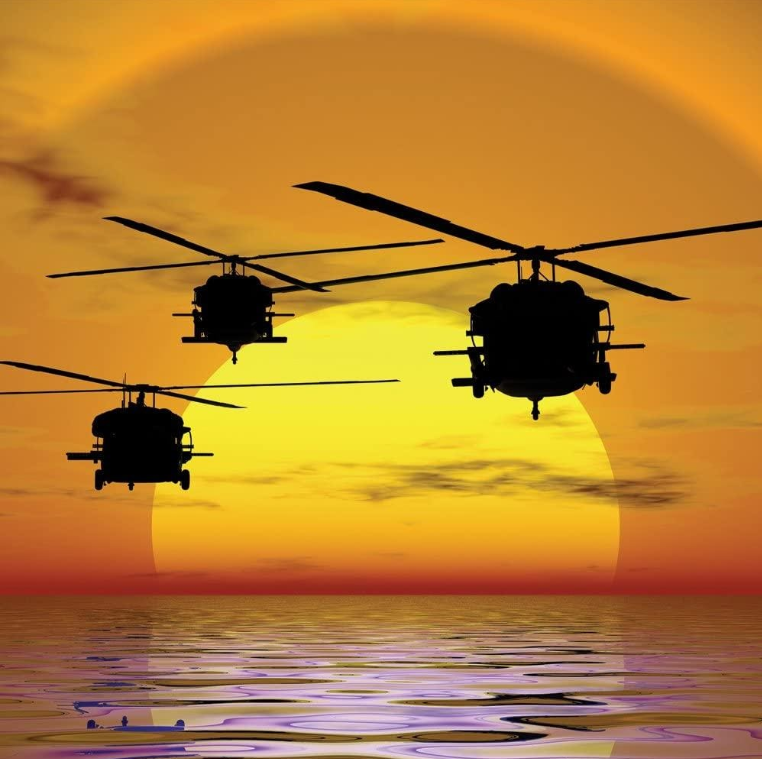 Photo 3 – Francis Ford Coppola's "Apocalypse Now" – Helicopters Descend to the sounds of Richard Wagner's "Die Walküre" (Ride of The Valkyries) in the monumental opening 6 Channel surround soundtrack, a first of a kind, at the time.
A New Approach to Sound in Film | Architect Jeff Cooper 
As a visionary director, Francis (everyone who worked with him simply called him "Francis"), wanted viewers to viscerally experience the shocking horror and the chaos of Viet Nam. He wanted to bring home the sights and sounds of war delivered through a compelling narrative. First, the audience would witness the sweeping Southeast Asian ocean vistas, seen from the air, accompanied by bold symphonic music in the audio foreground. The audience would feel the whirring blades of the helicopters, cutting through the music. Then they would experience the ground shattering explosions, with the floor vibrating beneath their feet. In Coppola's characteristic directorial style, the large scale panoramic film experience would exist side-by-side with a smaller, intimate, and more personal side of the story; the whispered dialogue of soldiers fearing for their lives in the night set against the soundtrack of ever-present chaos. The ambitious film required a veritable symphony of sounds to be recorded in high quality and then mixed together carefully for full effect. Sounds such as the labored breathing of sweating soldiers crawling on the jungle floor, the harsh curses and expletives shouted inside crowded tents, the gunshots, the unexpected explosions, and the sound of machine-gun rapid-fire breaking the silence of the night, would all compose elements in the aural canvas.
When mixed, the dialogue and music would be set against a panoply of sound effects…and this type of soundtrack needed a 3-dimensional presentation to work most effectively. The 3-D sound field would include the ever-present sounds of insects, the background noise of dripping rain, and the deep flowing water sounds of the river. All these subtle sounds had to be captured with the absolute best recording techniques. They had to be recorded live on set, or in the studio and then mixed by a team of experts to perfection, the way a virtuosos artist mixes paints on a canvas. For this process to work, architect Jeffrey Cooper needed to design a new kind of high-performance Mixing Theater inside a relatively limited space. Then the room needed to be fitted with durable high-end speakers in the walls and ceiling and equipped with powerful subwoofers, capable of delivering tight, thundering omnidirectional low frequencies.
The entire shocking and tragic story of the Vietnam War, with its desperate moments of bravery, its ever-present fear, its palpable moments of loneliness and its shocking human betrayals, would be set to a jarring background of 60's rock music, including The Doors and Jimi Hendrix.
Can This Project Be Done in Time?
Could architect Jeff Cooper convert the abandoned warehouse he had just seen, with all its limitations, into a state of the art Sound Mixing Studio for such an ambitious project immediately…and on a fixed budget? Could he guarantee that his design would work and that the sound would "translate" to conventional movie theaters? Could he set up this new Studio concept with a never-before-tried sound format, using 6 channel side and rear surround sound, accompanied by thunderous bass fed through subwoofer channels and fit it all inside the limited space available in the Zoetrope warehouse? Most importantly, could Cooper accomplish all this in 3 months? Architect Jeff Cooper's studio had to be designed, built, fully-equipped, tested, and ready in time to mix "Apocalypse Now" for its Summer 1979 release date or there was no deal…
Jeffrey Cooper, of Calabasas, thought about the amount of design and construction work that would be involved to accomplish Francis Coppola's vision and the limited time he had to accomplish it. He was 26-years-old and still a novice Architect. The pressure of failure would be unbearable. But he sensed this was a career-making opportunity that was unlikely to be duplicated. He also realized that he would have to drop everything else in his life immediately and move to San Francisco, in order to make it happen for Francis. He said yes.
Coming Soon
The next article in the series will describe how the groundbreaking Mixing studio, American Zoetrope, was built in record time and how the film, "Apocalypse Now", went on to win the Academy Award for Best Sound and how it established a new standard for sound in film.